Where a man can talk
Where can a man go to talk about the stuff he does not feel comfortable talking about? Sounds like a riddle, and to some extent, it is.  Many men just do not feel comfortable talking about the BIG stuff like hurts, disappointments,
pornography
,
sexually acting out
, grief, divorce, job loss, and
failed relationships
.  I provide a supportive and affirmative counseling setting that can help you sort things out and come up with results that are different from the ones you are currently getting. I work collaboratively with men to understand their past and plot a new course – a course that gets you what you want:
a better marriage
; less conflict at work; healing and letting go of the past;  issues you just cannot face or talk with anyone about.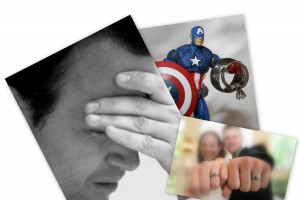 You don't have to be a superhero to have a good marriage!
Some of the issues I work with men on are:
 Grief
 Transitional issues such as job change
 Restricted range of feeling
 Difficulties with intimacy
 Poor communication skills
 Controlling and rigid behavior
 Expressing spirituality
Don't continue being miserable,

contact me

.